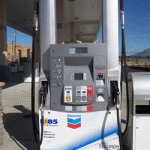 Pearson Fuels has opened their third E85 station in the state of California. The Chevron station is located at 1001 Willow Pass Court in Concord.
This new travel facility features a brand new Convenience Store and is the first public E85 station in Northern California. It is located directly off of Route 4 at Willow Pass Court and open 24 hours a day.
The first alternative fuel station was opened in San Diego, California by Pearson Fuels in 2003. It carried E85, biodiesel, low sulphur diesel, compressed natural gas, propane, and it hosted electric charging for vehicles in need. Many called this station, "The Fuel Station of the Future".
"There are a lot of chickens running around," or cars that can run on ethanol, Mike Lewis, owner of Pearson fuels once said. "And now we just need to make the eggs. I think we have the right product at the right time with the right business model. The potential upside is massive."
Besides locations in San Diego and now in Concord, Pearson Fuels has an E85 site in Bressi Ranch. Currently, there are a total of nine E85 stations in the state of California.