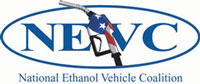 The National Ethanol Vehicle Coalition (NEVC) recently reported their endorsement of the legislative proposal introduced by Congresswoman Stephanie Herseth Sandlin (D-SD) and John Shimkus (R-IL) which would increase the federal income tax credit that assists to offset the cost of alternative fuel infrastructure. The legislation introduced on July 31, 2008, which may be found by clicking here, would increase the existing federal income tax credit from $30,000 or 30% of the total cost of improvements to $100,000 or 50% of the total cost of needed alternative fuel equipment and dispensing improvements.
"Congresswoman Herseth Sandlin and Congressman Shimkus have consistently demonstrated their leadership in advancing the use of both ethanol and biodiesel. The NEVC would like to express our sincere appreciation for this recent action," stated Executive Director of the NEVC Phil Lampert. "Our automaker members have pledged to produce 50 percent of their total vehicle production as flexible fuel by 2012 if the infrastructure is available to support such vehicles. Even though we now have 1,650 E85 fueling locations, this still represents less than 1% of the total gasoline fueling stations. We are convinced that if this proposal were adopted, the nation would have no less than 10,000 E85 fueling sites in a short period of time."
The E85 and Biodiesel Access Act (H.R. 6734) is supported by the NEVC, the American Coalition for Ethanol, the Renewable Fuels Association, the National Association of Convenience Stores and the National Biodiesel Board.
A copy of the Press Statement issued by Congresswoman Herseth Sandlin may be found at http://hersethsandlin.house.gov/press/2008/press_080108_renewables.htm. A Press Statement issued by Congressman Shimkus may be found by clicking here.