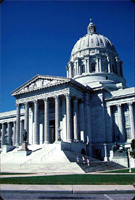 In 2006, Missouri state lawmakers passed legislation to require all fueling facilities to sell E10 (10% ethanol and 90 percent gasoline) whenever the price is no more than traditional gasoline. This summer, with recent debates over the renewable product, lawmakers are looking to see if the mandate should be kept as Missouri law.
The Missouri Corn Growers Association fully supported the ethanol fuel requirement. They say agriculture should focus on food, but it should also have a place in the state to contribute to energy. They say that the standard has assisted in reducing the price of fuel at the pump. This is due to the tax credit that is received when blending the product with gasoline.
"Ethanol and food are topics that touch everyone, and I'm encouraged that our public policy makers are focusing on this," Ashley McCarty, Missouri Corn's director of public policy.
Several lawmakers who voted for the ethanol requirement sponsored a bill earlier this year to repeal the biofuels mandate, but the bill did not pass.