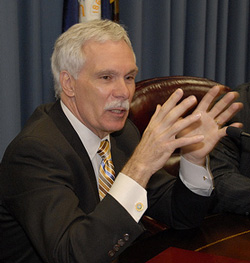 Last month's floods in the Midwest might not have put the corn and soybean crops, which are vital to ethanol and biodiesel production, in as much peril as originally feared.
In a news conference in Washington, DC today, the U.S. Department of Agriculture's chief said that the Midwest corn and soybean crops have not been hurt as badly as first thought from last month's flooding in the region. And Secretary Ed Schafer says that the number of farmers who want to take their Conservation Reserve Program acres because it is more financially advantageous is adequate enough his agency won't be allowing any penalty-free releases of CRP acres this year:
Despite the damage and disruption caused by the very severe floods that hit the Midwest last month, the indications so far are that the impact on this year's corn and soybean crops will be less than what was originally feared. The markets have been reacting favorably to the good growing weather we have been experiencing in recent weeks and encouraging reports on crop conditions. Cash prices for corn are down 25 percent and for soybeans 14 percent from their record highs just last month.
Even with the damage and delays in planting caused by the floods, this year's corn crop is on track to be the second largest on record with an anticipated harvest of almost 79 million acres. The strength of the commitment America's farmers have made to meeting the nation's need for corn for food, feed and fuel has reassured the markets that there will be an adequate supply available this year.
The recent easing in prices is helpful to the livestock industry and will allow current CRP contract holders to make informed decisions about whether they want to make an early exit from the program.
Schafer was asked during the press conference if the agency was feeling pressure to offer the early outs from CRP because the Renewable Fuels Standard of nine billion gallons this year (and increasing next year), along with the biodiesel mandate that kicks in next year, could put more pressure on livestock feed prices:
Well, you know, we looked at a lot of factors. And certainly we've had many letters, calls and comments in to USDA about allowing an early release. We have had the same for people saying, "Don't allow an early release." You know, there are a lot of groups that feel strongly about this issue either way. So if you want to count that as pressure, certainly we have heard the message on both sides of the equation here.
But the reality is, we have acres that are coming out because of expiring contracts. Those acres are not perpetual easements. These are contracts for a certain period of time, and so we are trying to understand everybody's concerns about this issue and feel this decision at this point in time took into consideration all the factors that we had on the table. And this is the way we're calling it.