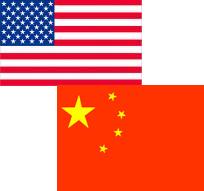 The world's superpowers… the current reigning one and the up-and-comer… are also super when it comes to wind power.
This story from CNN says the U.S. and China are leading the world in wind energy development. And as we've reported before, the American charge is being led in Texas, which produces more wind energy than any other state:
Several Texan transmission companies announced Monday they were forming a consortium to invest in the $5 billion cost of building new power lines to take advantage of the state's vast wind power.
The consortium, comprised of existing transmission operators, includes Dallas-based Oncor, the state's largest power delivery company, Electric Transmission Texas (ETT) and units of American Electric Power Co. among others.
Those new lines, dubbed by Oncor as a "renewable energy superhighway," will accommodate about 18,500 megawatts of wind generation by 2012– enough energy to power 4 million homes.
And America's biggest rival is also rivaling it in wind energy development:
Steve Sawyer of the Global Wind Energy Council said: "China's wind energy market is unrecognizable from two years ago."
"It is huge, huge, huge. But it is not realized yet in the outside world," Sawyer said in an interview with London's Guardian newspaper.
China's wind generation has increased by more than 100 percent per year since 2005 and 20 per cent of the power supply to the venues of the Beijing 2008 Olympic Games will come from wind generators, according to the official state agency, Xinhua.
It was initially hoped the country would generate 5 gigawatts of wind by 2010, but that goal was met three years early in 2007. The 2010 goal has now been revised to 10 gigawatts but experts say this could well hit 20 gigawatts.