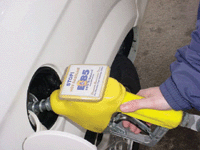 E85 sold for 85 cents per gallon as part of a promotion to celebrate the opening of an E85 fueling faclity in Glenville, NY. General Motors and the state of NY sponsored the promotion at the Glenville Mobil Mart at 245 Saratoga Road for 85 minutes on Saturday, July 26.
"With the generous help of General Motors today, we were able to run a promotion E85 for 85 cents for 85 minutes. E85 flex fuel generally sells for a dollar less than gasoline. You get a little less mileage but it is a win win all the way around," said Glenville Mobil Mart owner Steve Weekes.
The station currently sells regular unleaded gasoline as E10 and diesel. They are open 24 hours and offer a full convenience store and 24 hour Dunkin Donuts. The 5,000 gallon E85 tank supplies four E85 nozzles.
The Glenville Mobil Mart is the 22nd E85 location in the state of New York.