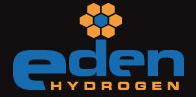 A new company has been formed that looks to lead the U.S. hydrogen market.
Eden Hydrogen Inc. is the product of the merging of two American subsidiaries of Australian-based Energy Ltd… Hythane Company of Denver, Colorado and HyRadix of Des Plaines, Illinois. This story from the Wall Street Journal's Market Watch web site says the new company will be headquartered in Des Plaines, Illinois.
"Eden Hydrogen is a milestone in our growing capacity to deliver integrated hydrogen solutions to customers in the U.S. and globally," said Greg Solomon, Executive Chairman, Eden Energy Ltd. based in Perth, Australia. "We have captured the hydrogen supply chain within a single, efficient company."
Robert Gray has been named Chief Executive Officer of Eden Hydrogen Inc. He was formerly Chief Executive Officer of Eden Innovations Ltd. and a past president of HyRadix. Roger Mamaro, President of Hythane Company, will lead global operations and Dave Cepla, President of HyRadix, will lead global sales and marketing for the new company.
"As consumers in the U.S. and around the world demand cost effective and clean alternatives to petroleum, the market for hydrogen-based fuels and technologies is rapidly expanding," said Robert Gray, CEO, Eden Hydrogen Inc. "Eden Hydrogen is uniquely positioned to provide economical onsite hydrogen generation, delivery, and storage."
The announcement comes on the heels of a study that recommends the government spends $55 billion over the next 15 years to help hydrogen vehicles are competitive with their petroleum-fueled counterparts on American roads.