Ethanol Producers and Consumers' (EPAC) 18th Annual Ethanol Conference concluded in Kalispell, Montana yesterday. The conference featured more than twenty speakers within the one and a half day event. The focus of this year's conference was to help dispel the myths of the food and fuel debate.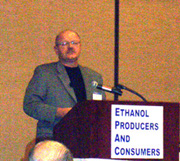 "We've been looking at nations outside the U.S. to see what ethanol influences there are around the world," said Dave Vander Griend, president and CEO of ICM, Inc. (seen left). Vander Griend expressed that his plants are truly food AND fuel plants.
Other speakers and moderators at the recent EPAC conference included: Kelly Davis of Hawkeye Gold,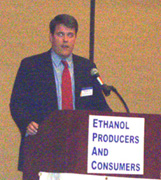 Michelle Kautz of NEVC, Julie Ward of R.J. O'Brien, Steve Markham of CHS, Inc., Matt Hartwig of RFA (seen right), John Urbachuk of LECG, LLC, Robert White of EPIC, Gerson Santos-Leon of Abengoa Bioenergy, Joe Jobe of the National Biodiesel Board, and Al Weverstad of General Motors, among others.
"Thanks to the many speakers, moderators and vendors who have agreed to be part of the agenda," noted Executive Director of EPAC, Shirley Ball.
The 19th Annual EPAC conference will be held in Bozeman, Montana June 29 and 30, 2009. For more information on EPAC, visit www.ethanolmt.org.