Montana's Senator Jon Tester is in support of domestic fuel and Ethanol Producers and Consumers (EPAC). The U.S. Senator is a third generation Montana farmer who understands the value of agriculture to Montana's economy and way of life. His Field Director Tracy Stone-Manning presented a letter at the recent EPAC conference in Kalispell, Montana:
Thank you all for your hard work in one of the more important efforts of our time — securing America's energy independence.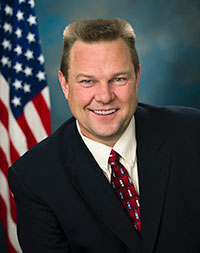 It's not just an energy issue. It's a national security issue. And EPAC plays an important role.
I had the honor of sitting down with Shirley [Shirley Ball is the executive director of EPAC] in the Senate just last week. We discussed all the new opportunities for biofuels in Montana — and the economic growth and good-paying jobs it will bring. Opportunities for biodiesel, cellulosic ethanol, and ethanol from barley, among others.
We still have a ways to go. We still have to dial in, for expample, the right enzymes to break down cellulose. But I am confident we'll get there. Montana is an agricultural powerhouse and we can and should lead the way in our energy future.
As a member of the Senate Energy Committee, I look forward to hearing what comes out of this conference.
Again, thanks for your hard work. And stay in touch.
Respectfully,
Jon Tester
United States Senator