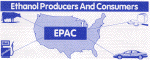 Ethanol Producers and Consumers (EPAC) kicked off their 18th Annual EPAC Conference on July 20 with their Board and Membership Meeting. The event is taking place at the Hilton Garden Inn in Kalispell, Montana and the theme of this year's conference is "Ethanol: Fuel AND Food".
"This conference will help to counter the negative news items we hear today regarding ethanol," noted Shirley Ball, president and executive director of EPAC.
During the board meeting, the following were decided to serve on the the board of directors: Tim Babcock, Gary Schaff, Linda Nielsen, Tom Kryzer, Stan Ozark, Mike Allen, Russ Montgomery, Michelle Kautz, Matt Wilson, Julie Ward, Dan Schwartzkopf and Phil Madson.
Other items discussed included EPAC's fiscal year budget, grant opportunities, membership, future conferences and more.
An evening reception sponsored by Katzen Interenational, Inc and CHS brought the attendees together.