The National Ethanol Vehicle Coalition (NEVC) concluded their 2008 Summer Board of Directors Meeting in Washington D.C. on Tuesday, July 15. The meeting was held in conjunction with the National Corn Grower Association's Corn Congress.
The board meeting was well attended by board members ranging from automobile manufacturer representatives, ethanol producers, state corn growers and more. Items on the agenda covered budget items, membership, and issues that are hindering the advancement of E85 infrastructure such as the lack of Underwriters Laboratory certification on E85 dispensers.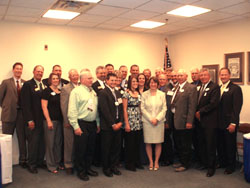 The NEVC along with cosponsors hosted a reception for the attendees of the Corn Congress on Monday, July 14. Also, a reception at the nation's Capitol was held on July 15. Minnesota Senator Amy Klobuchar addressed the crowd at the reception. She thanked the Minnesota Corn Growers Association for their leadership on pushing this year's Farm Bill to its success.
Sponsors for the meeting included: the Missouri Corn Growers Associaiton, VeraSun Energy, ICM, Dresser Wayne, Ohio Corn Growers Association, Minnesota Corn Growers Association, Kansas Corn Growers Association, Siouxland Energy and Livestock Cooperative, Alliance of Automobile Manufacturers, Kentucky Corn Growers Association, Mid-Missouri Energy, Gilbarco Veeder-Root, White Energy, Clean Fuels Development Coalition, and Chrysler Corporation.
Photo above features Minnesota's Amy Klouchar with members of the Minnesota Corn Growers Association.