Ethanol has become the key issue in the race for the governor's mansion in Missouri, as the two main Republican contenders square off over the state's new ethanol mandate.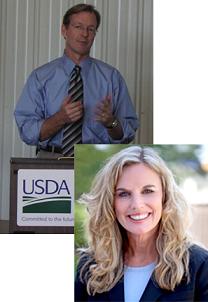 Sarah Steelman, who is also the State Treasurer, has now switched her position to opposing Missouri's mandate that requires that practically every gallon of gasoline sold in the state must contain at least 10 percent ethanol. Just earlier this year, she had backed the mandate, but now has sided with Big Oil's contention that it is raising food and fuel prices… a contention her opponent in Missouri's August 5th Republican Primary, Congressman Kenny Hulshof refutes with plenty of facts from ag and non-agricultural sources in this article from the St. Louis Post-Dispatch:
– A recent analysis from Merrill Lynch concluded that oil prices would be about 15% higher, if it weren't for biofuels like ethanol and biodiesel. (Multiple press accounts)
"- A U.S. Department of Agriculture and the U.S. Department of Energy analysis found that without ethanol, gas would be higher by 35 cents per gallon. (USDA & DoE letter to Senate Energy & Natural Resources Committee Chairman Jeff Bingaman, June 11, 2008)
"- An Iowa State University study found that ethanol has lowered gas prices by 30 to 40 cents per gallon. (Omaha World-Herald, editorial, May 11, 2008)
"- A Missouri-based A.G. Edwards analyst asserted: "Ethanol blending could help ease U.S. refining bottlenecks and that could be ultimately reflected in lower prices at the pump." (Reuters, February 14, 2008)
"- The International Energy Agency (IEA) states that biofuels make up about 50 percent of the extra fuel coming to the market from sources outside the OPEC oil cartel. William Ramsey, deputy executive director of the IEA, said: "If we didn't have those barrels, I am not sure where we would be getting those half a million barrels." (The Financial Times, April 26, 2008)
Hulshof's campaign has compared Steelman to Venezuelan strongman Hugo Chavez, who, as an oil dictator, also has no interest in the development of ethanol in the U.S.