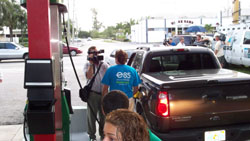 Yesterday, nearly 3,000 gallons of E85 were sold within just two hours at four Miami, Florida fueling locations. E85 sold for $1.85 per gallon from 7 until 9 a.m. celebrating the opening of the E85 dispensing units.
A press conference kicked off the promotions at 6:45 a.m. at the Hallandale Beach U-Gas located at 990 W. Hallandale Beach Blvd in Hallandale Beach. This facility is the first in Broward County and this location will be used to fuel all of Enterprise Rent a Car's flexible fuel vehicles.
"It's made in the U.S. and it's cheaper," said Ignacio Urbieta Jr., co-owner of the Urbieta Oil Company which owns the Hallandale Beach U-Gas.
Additional E85 locations that opened in the state of Florida yesterday included those in Palmetto Bay, Hialeah, and Miami.
The promotion was sponsored by the Ethanol Promotion and Information Council, Protec Fuel, and Urbieta Oil.