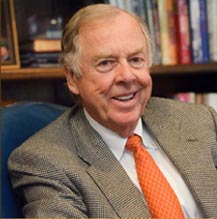 Billionaire oilman T. Boone Pickens is choosing a decidely non-petroleum source as the solution for America's energy woes: wind power.
As you might remember from my post on May 20th, Pickens has invested $2 billion in a 667 turbine wind farm in Texas. Now, he wants to translate that passion for wind to the rest of the country. This story from CNN says he held a press conference today to unveil "The Pickens Plan," which calls for investing in domestic renewable resources such as wind:
In a news conference outlining his proposal, Pickens said his impetus for the plan is the country's dangerous reliance on foreign oil.
"Our dependence on imported oil is killing our economy. It is the single biggest problem facing America today," he said. Video Watch Pickens discuss plan for wind power »
"Wind power is … clean, it's renewable. It's everything you want. And it's a stable supply of energy," Pickens told CNN in May. "It's unbelievable that we have not done more with wind."
Pickens says a wind corridor, stretching from Texas to Canada across the breezy Great Plains, could be filled with thousands of wind power generators, providing 20 percent or more of the nation's energy needs. He adds the plan could be implemented withing 10 years and promises to work with whoever becomes president:
"We are going to have to do something different in America," Pickens told CNN. "You can't keep paying out $600 billion a year for oil."