July is the time to celebrate Independence Day, but, unfortunately, the United States is still a long way from declaring energy independence.
Home-grown, renewable fuels are one part of the answer when it comes to meeting America's fuel needs, and soybean farmers and their soybean checkoff have been working to develop, test and prove the value of soy biodiesel for nearly two decades now. The results of that work have proven the value and effectiveness of soy biodiesel and its benefits as a cleaner burning "green" choice.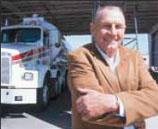 Recently, a complete "green" fuel station opened in Lawrence, Kansas. Harold Kraus, a National Biodiesel Board Director and Kansas soybean farmer Harold Kraus was there.
"This brings all the fuels together at one pump: B2, B10, B20, B30 and B100," says Kraus, talking about the Zarco 66 Earth Friendly Fuels Station. It's the state's first blender pump where the mixing of the biodiesel and the pricing is done right at the pump. "You've got an easy way to select the blend you want for biodiesel."
Making soy biodiesel more accessible to truckers, farmers and other users has been a primary goal of soybean checkoff investments. A biodiesel user on his own farm, Kraus says he believes strongly that soybeans can be efficiently and effectively used as both a food crop and a fuel crop to the benefit of all.
"We're only taking the oil out of the soybeans. We're not taking anything out of the food system," says Kraus. He points out that the soybean meal still goes into the animal feed industry, and nothing is being taken from consumers… only value being added at the farm gate.
The production of the cleaner, greener soy biodiesel fuel has been growing at a rapid pace. Last year in the U.S., about 450 million gallons of biodiesel were produced.