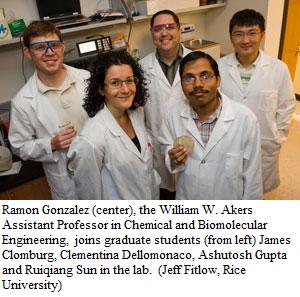 Researchers at Rice University are finding more uses for the glut of glycerin brought about by the rise in popularity of biodiesel.
A story from the school says the researchers have found a way to use E. coli and other bacteria to turn glycerin into chemicals formate, succinate and other valuable organic acids. The article says the work is being featured in the journal Metabolic Engineering:
"Biodiesel producers used to sell their leftover glycerin, but the rapid increase in biodiesel production has left them paying to get rid of it," said lead researcher Ramon Gonzalez, Rice's William W. Akers Assistant Professor in Chemical and Biomolecular Engineering. "The new metabolic pathways we have uncovered paved the way for the development of new technologies for converting this waste product into high-value chemicals."
About one pound of glycerin, also known as glycerol, is created for every 10 pounds of biodiesel produced. According to the National Biodiesel Board, U.S. companies produced about 450 million gallons of biodiesel in 2007, and about 60 new plants with a production capacity of 1.2 billion gallons are slated to open by 2010.
A year ago, this same team of Rice researchers found a way to convert glycerin into ethanol… at a cost of only about 40 percent of getting the green fuel from corn. This latest discovery is expected to help the bottom line of biodiesel producers.