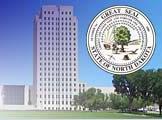 A North Dakota commission is recommending that ethanol, biodiesel and wind play a larger role in that state's energy future.
The Dickinson (ND) Press reports that the state's EmPower Commission has issued 10 major goals with renewable fuels at the forefront. Here are some of the goals:
*Support the nation's 25X25 Initiative to derive at least 25 percent of all energy produced from renewable sources by 2025.
*Increase installed capacity of wind generation to 1,500 megawatts by 2020.
*Produce 450 million gallons of ethanol by 2011 and develop both in-state and out-of-state markets for ethanol and associated byproducts.
*Build new biodiesel plants in North Dakota to produce 135 million gallons by 2015.
The commission, created by the state legislature last year, has worked for the last 10 months to come up with these recommendations and suggestions that also deal with conventional energy sources in North Dakota.