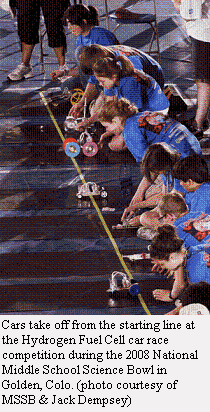 A group of junior high students from Boise, Idaho has won first place in the National Fuel Cell Competition at the 2008 National Middle School Science Bowl in Golden, Colo.
This story from KBCI-TV in Boise says it was a good chance for the students to learn… and the sponsoring U.S. Department of Energy to get some new ideas:
"Each team started out with their motor and this fuel cell," said eighth grader, Alex Baca, one of the master minds behind the design of the car. "And it was up to you to design some kind of car."
Five students from the Treasure Valley Math and Science Center at Riverglen Junior High school are bringing home the overall first place trophy in the National Alternative Fuel Cell Competition for their little hydrogen cell vehicle.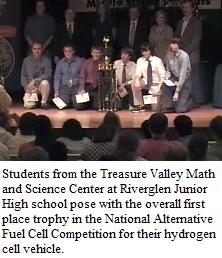 "This year we got a monster trophy, so we can show everybody this is what we did and this is what we got," said Eddie Smith, an eighth grader on the team.
The US Department of Energy sponsored this week's National Middle School Science Bowl in Colorado, all in search, for creative ideas when it comes to researching alternative fuels.
One of the students' mentors said while hydrogen may or may not be the answer to the nation's energy problems… but they won't know if it is the answer until they ask questions like this.