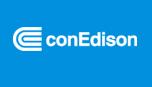 Electric utility giant Consolidated Edison… Con Ed as it is affectionately known… announced today it will run more biodiesel in its vehicles.
This company press release from the utility giant serving more than three million customers in the New York City area has more:
Con Edison's fleet of approximately 1,700 diesel trucks is using cleaner-burning B-20 biodiesel fuel, 20 percent of which is derived from soybeans. The soy-based portion of the fuel is a renewable resource that will help the company offset almost 400,000 gallons of petroleum per year. Newer diesel vehicles also will be equipped with special exhaust filters for even cleaner tailpipe emissions.
"Whether reducing greenhouse gas emissions from our own facilities, or promoting 'green' alternatives and energy savings tips with our customers, Con Edison has been a recognized industry leader in advocating for a cleaner, safer planet," said Randolph S. Price, vice president for Environment, Health and Safety. "We are committed to mitigating climate change, and will continue to embrace new technologies and progressive corporate policies that embody our pursuit of environmental excellence."
The story goes on to say that Con Ed is replacing 50 of its smaller vehicles with hybrids this year and working on the development of plug-in hybrid electric vehicles.