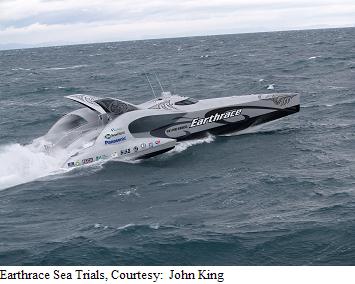 The Earthrace, the 100 percent biodiesel-powered boat trying to set a record for circumnavigation of the globe, is approaching its last port before its final run back to Spain… and a world record.
This update from the earthrace.net web site says Earthrace will dock at Port Suez, Egypt, after getting special permission to go through the Suez Canal, and fuel up for the final run to Sagunto, Spain… where this amazing trip started back on April 27th: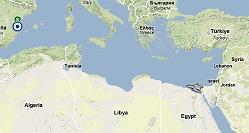 Update from Egypt, 19.29 GMT. Due to essential maintenance work following a challenging trip through monsoon weather, Earthrace was not able to start the journey through the Suez Canal until this afternoon. The crew is very grateful to Admiral Fadel, Chairman of the Suez Canal Authority, for granting special dispensation to the boat to travel through the Canal. As vessels are unable to travel along the canal at night, the boat is now docked half way to Port Said, in Ismailia from where she will set off again at first light tomorrow. Thanks also to Felix Maritime Agents for all their help in making arrangements for a great transit.
On arrival in Port Said, the boat will stop to offload the ground crew and other additional passengers and continue on towards Spain…and the world record!
The Earthrace is in pretty good shape to break the record… about 2,500 miles ahead of the record set for circumnavigation back in 1998.