A group of students in West Virginia are learning how to brew up biodiesel, while helping run the buses to get them to those classes.
This story from the The State Journal says in the face of $5-a-gallon diesel fuel… and the likelihood of that growing to $6… the Lincoln County High School FFA has started the first biodiesel production center at a public school in the state:
Looking a little like the makings of a mad scientist's laboratory with its large tanks and rubber tubes, the students' equipment has the capacity of producing 400 gallons of biodiesel a week at a cost of about $1 per gallon.
The fuel will be used to power a school bus, saving the school district an estimated $32,000 its first year alone. But more importantly, it will give Lincoln County students a jumpstart in a technology that may turn out to be very profitable in the near future.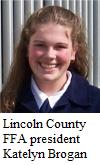 "It opens the door to a whole new world," Lincoln County FFA president Katelyn Brogan, 17, said. "You learn so much more from it: How to recycle properly, how to renew your fuels, how to save money and time."
Brogan isn't planning on going into the biofuels industry after graduation; instead she wants to study forensics. But she said the group's work with biodiesel is laying the foundation for biofuel training at the school.
"We are trying to prepare our students earlier and sooner … so they won't go straight into college and go 'Oh my gosh, I have no idea what I'm doing,'" she said.
The article goes on to say that the school received money from West Virginia's Departments of Education and Agriculture to help purchase the $20,000 biodiesel refiner.
You can also check out the Lincoln County High School's FFA's web site and blog at www.lincolnffa.com.