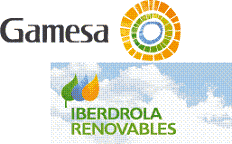 A European power company has struck a record-breaking deal for wind power in Europe and North America.
This story from the Wall Street Journal says Spanish-based Gamesa SA has agreed to provide wind turbines, construction and services valued for $9.7 billion to Iberdrola Renovables SA, the renewable-energy unit of Spanish power utility Iberdrola SA:
The agreement is the largest-ever wind-power deal, Iberdrola Renovables said. The turbines will have a joint potential to generate 4,500 megawatts of electricity in wind parks in Europe, Mexico and the U.S., said Gamesa, which is based in Spain. Gamesa is one of the world's largest wind-turbine makers.
Iberdrola Renovables said it will acquire wind projects currently run by Gamesa in the United Kingdom, Mexico and the Dominican Republic for €65 million (about $101 million).
Iberdrola Renovables and Gamesa will also develop and run jointly wind farms in Spain and internationally.