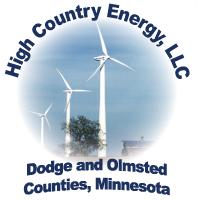 Minnesota-based High Country Energy, along with its managing company National Wind, has made the nation's first intrastate public offering of a wind project's securities… a move that is expected to help local, rural communities invest in the green energy source.
This company press release says High Country Energy is using Delphi Financial Corp., an investment banking firm specializing in raising capital for community-based renewable energy projects, as the placement agent for the offering. It's expected to help High Country Energy, to build more than 300 megawatts of community-owned wind farms in Dodge, Olmsted and Mower Counties, Minnesota:
"This offering can be made available to interested investors throughout the state of Minnesota, however it was very important to all of us in High Country to ensure that landowners within the project footprint have the first opportunity to invest," says Barry Rogne, Chairman of the High Country Energy board of advisors. "This offering is consistent with our company's goals of sharing ownership with a large cross section of our community."
Investing in renewable energy capacity is becoming a worldwide trend, according to the World Watch Institute. In 2007, the Institute reported 36 billion dollars of worldwide investment in wind energy alone.
"An intrastate public offering is a way the local, rural communities can become a part of this trend. In comparison to a private placement offering, which is typical in the renewable energy industry, this intrastate public offering will allow us to offer investment opportunities to a greater number of people, as long as they are residents of Minnesota," says Ryan Pelstring, Vice President of Capital Markets, Delphi Financial Corp.