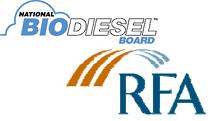 The leaders from the two biggest biofuels groups in the country are countering what they term as a smear campaign against the benefits of biodiesel and ethanol by the nation's grocers.
The National Biodiesel Board and the Renewable Fuels Association (which represents ethanol production in the U.S.) both issued statements today to counter the anti-biofuels campaign launched by the Grocery Manufacturers Association, which is trying to blame biodiesel and ethanol for the spike in food prices:
NBB's Chief Executive Officer Joe Jobe:

"With oil prices up more than 100 percent in the last 12 months, it is wrongheaded for groups to attack biofuels which represent one of the few components of US energy policy that is actually working. Biofuels are currently contributing over 8 billion gallons of fuel to our fuel supply, without which fuel prices, and consequently food prices, would be even higher than they already are."
And the RFA's President Bob Dineen:

"It's time for some truth in advertising from the world's largest food processors. Instead of smearing American farmers and the only fuel that is backing out foreign oil, why aren't GMA and its allies pointing to the skyrocketing price of oil as the main cause of increasing food prices and the main reason American's have less to spend.
Dineen also points out that every dollar spent on biofuels… which adds up to billions every year… is a dollar kept in American pockets… out of the reach of OPEC. Both groups also make the point that they are working to find more non-food sources for their green fuels.