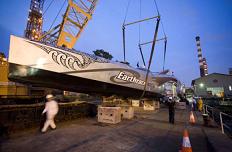 As we last left the Earthrace, a boat powered by 100 percent biodiesel trying to set a world record for circumnavigating the globe, she was limping into Singapore after hitting some debris near Palau and damaging a prop.
Today, the Earthrace is back in the water, racing across the India Ocean, still on pace to set the world record:
Despite the delays for repairs, the boat is still 1,556 miles ahead of the world record pace, set by the British Cable and Wireless team in 1998, despite sustaining significant damage in Palau and having to complete the last leg of the journey on one engine.
The crew has relied on the generosity of a number of companies that stepped forward to offer Earthrace support for speedy repair upon arrival to Singapore, particularly POSH SEMCO, an offshore marine service contractor, Assetton asset management, and J B Global, project sponsor. Repair work was successfully carried out in three days, after the ground crew spent the whole of last week sourcing components and shipyard space.
The next stop for the Earthrace is Cochin, India this coming Friday, June 13th. Let's hope it's actually a lucky day for the racers.
You can track Earthrace's progress at www.earthrace.net.