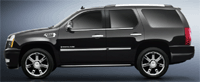 General Motors (GM) announced today that their 2009 Cadillac Escalade will be able to run on either gasoline or the alternative fuel blend of 85 percent ethanol and 15 percent gasoline (E85). The Escalade, Escalade EXT and Escalade ESV will join the 2009 line-up of flexible fuel vehicles (FFVs).
"The success of E85 as an alternative fuel depends on having the fuel readily available and having a range of cars and trucks that can use it," said GM Vice President of Environment, Energy and Safety Policy Beth Lowery . "We will offer more than 15 flex-fuel capable models for 2009 compared with 11 this year."
Previously announced this year, other 2009 FFV models will include the GMC Denali, Chevrolet HHR, Buick Lucerne and Hummer H2 and H2 SUT. This will assist GM in their effort to providing half their vehicle line as E85 compatible by the year 2012.