Students at the University of New Mexico are going to be able to get to class using the green fuel biodiesel.
This story in the university's newspaper, UNM Today, says the school in Albuquerque is running four of its shuttle buses in the Parking and Transportation Services (PATS) Department on biodiesel: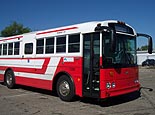 "Biodiesel was an obvious choice" says Alexander A. Aller, Manager, Public Transit Operations. "Right now, all of our large shuttles are alternatively fueled with either biodiesel or compressed natural gas. Although we have a small fleet, we are pleased to contribute to efforts that reduce carbon dioxide emissions, dependence on foreign oil, and the pace of global warming."
What has been the reception given to the new vehicles as they hit the routes in and around campus?
"Generally, very favorable," Aller said. "We could have continued maintaining our existing fleet, but older vehicles are far less reliable and more expensive to operate and maintain. Plus, the publicized overall environmental footprint associated with biodiesel is notably smaller than fossil fuel."
UNM plans to use the buses for the next 10-15 years.