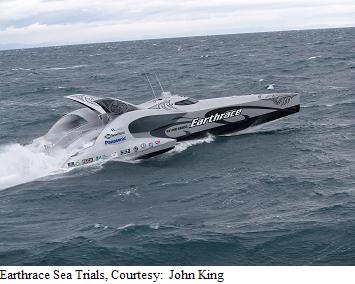 A 100% biodiesel boat trying to break the world record for circumnavigation of the globe has run into a bit of trouble in the East Indies. The Earthrace hit some debris near Palau and is limping toward Singapore for more permanent repairs:
Here's an update from the captain of the 78-foot racing boat:
Day 34 – 1st June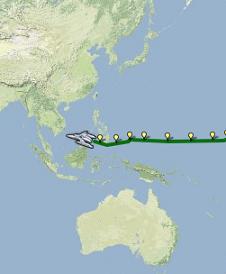 Having made a swift 3 hours 15 minutes turnaround in Palau, Earthrace encountered some sea debris, which has damaged the port prop. The boat returned to port where the prop was removed and the drive shaft tested. The shaft has been put out of line and will require repair in Singapore. Earthrace left Palau at 0400 local time and will journey to Singapore on one engine. Her reduced speed of 16 kn will still maintain her lead on the current record, and help mitigate any further damage from possible sea debris, which is a known problem in this stretch of water. Ground Crew will arrive in Singapore on Monday 2nd June as planned, and will prepare for the repairs. The weather forecast is good and the revised ETA for Earthrace in Singapore is Friday 6th June. An update will be posted later today.
The Earthrace was 15 days ahead of schedule to break the old record, but this latest setback is putting some doubt as to whether it will get the job done… never mind that the boat and crew is approaching pirate-infested waters.
Follow the Earthrace's progress at www.earthrace.net.