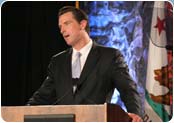 A $1-million grant is helping San Francisco build its first grease-to-biodiesel production facility.
This story from the Bay Area's NBC-11 says that Mayor Gavin Newsom made the announcement today that the city had received the grant from the California Energy Commission to build the facility near the city's sewage plant:
Mayor's office officials said the plan is considered unique because the facility would attempt to create three grades of biodiesel from "brown grease," which are pan scrapings and washed oil residue trapped in grease traps under restaurant sinks.
Mayor's office officials said there are more than 2.5 million gallons of brown grease in San Francisco, compared with 1.5 million gallons of "yellow grease," such as fryer oil.
The yellow grease is easily converted into biodiesel, while brown grease is usually discarded at sewage treatment plants.
"Our program to turn waste cooking oil and yellow grease into biodiesel has been an enormous success, but San Francisco must continue to raise the bar when it comes to reducing our greenhouse gas emissions and exploring alternative energies," said Newsom. "With this grant, our unique brown-grease-to-biodiesel plant will break new ground for sustainable fuel production in California and serve as a model for the entire state."
The facility would produce three grades of biodiesel: high-grade, certified biodiesel; lower-grade biodiesel for use in the plant's machinery and generators; and rich energy for cogeneration… a process that captures methane gas at the sewage plant and converts that to heat or electricity.
Last November, San Francisco started SFGreasecycle… a program that collects yellow grease from restaurants in order to make biodiesel for city vehicles, buses and fire trucks.