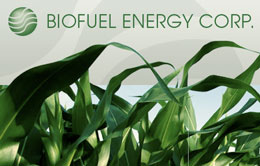 There's new financial leadership at BioFuel Energy Corp. The company has named Kelly G. Maguire its new Vice President-Finance and Chief Financial Officer. Maquire is replacing David J.Kornder who is resigning "to pursue an opportunity to become the Chief Executive of an oil and gas company."
Mr. Maguire is currently the Executive Vice President of Pendum, Inc., a privately held company with roughly 2,800 employees servicing 60,000 automated teller machines (ATMs) nationwide. Mr. Maguire served as Pendum's Chief Financial Officer from 2000 to 2006. Mr. Maguire began his career with Deloitte & Touche, LLP, spending almost 10 years in the audit area. Mr. Maguire received his B.A. degree in Accounting from the University of North Dakota.
BioFuel Energy is currently constructing two ethanol plants that would produce 115 million gallons per year in the Midwestern corn belt.