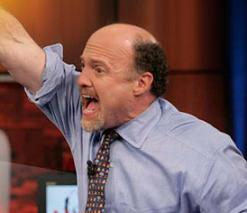 Jim Cramer, that wild man who vociferously picks or pans stocks on CNBC's "Mad Money with Jim Cramer," says wind energy is a winner in his book of stocks.
This posting on TheStreet.com says the Mad Man calls wind power "the cheapest form of renewable energy out there":
To help illustrate the many great companies involved in the wind power business, Cramer built a windmill from scratch, piece by piece, to show which companies make each component.
First, Cramer featured the wind tower business that makes the support structures for windmills. Here, he reiterated past recommendations of both Trinity Industries and Otter as the best stocks to own.
Next, Cramer featured the windmill blades, and said that Owens Corning has the best composite materials business for this high-stress application.
Cramer then focused on the nacelle, the structure that houses a windmill's turbine. Here, he identified Woodward Governor, Thomas & Betts and Kaydon as the companies to own for turbines, bearings and the other components found in the nacelle.
Finally, Cramer said both MasTec and Thomas & Betts are the best companies for the wind power infrastructure needed to bring power from the mill to the grid.
Cramer put all of these stocks into the "Mad Money Wind-ex," his index of wind power stocks. He also expects the upcoming American Wind Energy Association's annual conference in Houston next week to have a lot of buzz about these same companies.