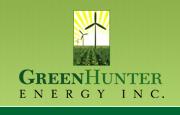 The nation's single largest biodiesel plant to date is set to open in early June.
GreenHunter Energy's 105 million gallon "white-water" B100 plant is planned to open on June 2nd at the company's Houston location. According to this press release, several federal, state and local officials, including Texas Governor Rick Perry, U.S. Dept. of Energy Deputy Secretary Jeff Kupfer, and Houston Mayor Pro Tem Adrian Garcia, will join company officials in a grand opening ceremony:
The converted waste-oil refinery on the Houston Ship Channel gives GreenHunter's renewable fuels campus direct deepwater access and the ability to transport products via barge, rail, and truck. Generators at the site will provide enough electricity for GreenHunter to sell unneeded power back to the grid. GreenHunter's campus also includes basic terminal operations and 700,000 barrels of storage capacity for feedstock management.
By producing biodiesel from multiple feedstocks, including non-edible sources such as tallow and jatropha, GreenHunter offers practical solutions to the ongoing "food versus fuels" debate.
The press is invited to the event:
WHERE: GreenHunter Energy Renewable Fuels Campus
13605 Industrial Rd.
Houston, TX 77015
*On site parking provided for media
WHEN: Monday, June 2, 2008 from 10 a.m. to 11 a.m.
10 – 10:25 a.m. Press Conference & Grand Opening
10:25 – 10:45 a.m. Guided Refinery Walking Tour
10:45 – 11 a.m. Media Availability