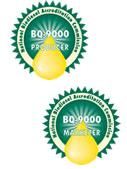 Two more biodiesel producers and a marketer have joined the ranks of those that are meeting a strict fuel quality assurance. BQ-9000 is a voluntary fuel quality assurance program, overseen by the National Biodiesel Accreditation Commission (NBAC) and adopted by the National Biodiesel Board and the Canadian Renewable Fuels Association.
This press release from the National Biodiesel Board says an 85 million gallon ADM biodiesel plant in Velva, N.D. and Freedom Fuels of Mason City, Iowa have joined as the latest BQ-9000 producers, while Phoenix, Arizona-based Caljet of America joins as a BQ-9000 Marketer. That brings the total number of companies to meet the standard to 40… or about 33 percent of U.S. biodiesel production:
"Quality is our ultimate goal," said Freedom Fuels laboratory manager Stacy Staudt. "Everyone works toward that goal from ensuring we receive quality raw materials to performing truck inspections before loading operations begin. Our reputation is based on the quality product we produce and on our commitment to meeting and exceeding the BQ-9000 requirements."
"We are extremely proud of our BQ-9000 certification," said Caljet Business Development and Quality Control Manager Mark Ellery. "We take ensuring the quality of our fuels very seriously, and we wouldn't have it any other way."
"Achieving the ASTM standard on every batch of biodiesel is critical to protect consumers and maintain the reputation of biodiesel as a high quality, high performance fuel," said Leland Tong, NBAC Chair.