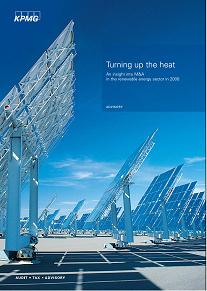 A report out from accounting firm KPMG says that 60 percent of executives believe that consolidation in the renewable energy sector will continue. That's leading to fears that a bubble may be developing in the solar, wind, and biofuel sectors as bidders compete for assets and send prices sharply higher.
This story from Reuters says many of those same executives expect to jump in as well:
Thirty percent expect to purchase such a company themselves between now and 2010, the survey said.
Earlier this year, oil giant BP (BP.L: Quote, Profile, Research) said it may part-float some of its green energy assets because Chief Executive Tony Hayward said BP's own market capitalisation did not fully reflect the high market values of such assets.
Fears over climate change have boosted interest in renewable energy and government incentives such as mandates that green sources should account for a portion of the total motor fuel or power markets have helped make the industry more economically viable.
You can read the KPMG report by clicking here.