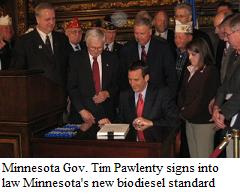 Minnesota Gov. Tim Pawlenty has signed into law a measure that will increase his state's biodiesel mandate from 2 percent currently to a whopping 20 percent by 2015.
As you might remember from my post last Friday (May 9th), the standard will be phased in over the next several years and will only be in effect when there's adequate supplies of biodiesel available. In addition, due to Minnesota's cold winters, the standard will apply only during the months of April, May, June, July, August, September, and October.

The news was welcomed, obviously, by the National Biodiesel Board:
Ed Hegland, Chairman of the National Biodiesel Board and a Minnesota farmer, praised the legislation's commitment to fuel quality. "The legislation includes quality assurance and national ASTM fuel specifications," he said. "We will continue to work with state leaders and stakeholders impacted by this legislation to ensure only quality fuel continues to enter the marketplace."
The measure also calls for additional feedstocks of algae, waste oils, and tallow, as well as other future feedstocks being researched in the state make up 5 percent of the biodiesel's content.