The biodiesel-powered speed boat, the Earthrace, was two days ahead of schedule to set a record for circumnavigating the globe as it has just finished its leg across the Atlantic Ocean… docking in San Juan, Puerto Rico after traveling 3,300 nautical miles from Sagunto, Spain.
This story from Powerboat-World.com says the first part of the journey was pretty exciting: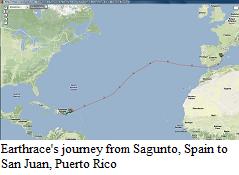 This journey was not without its moments. 24 hours short of the Azores, Earthrace lost her autopilot hydraulic pump and the crew had to hand steer, then her starboard fuel lift pump starved her of fuel and she slowed for the last hours of the leg.
After a fast two hour pit stop Earthrace set out on the long, 2315 nautical mile leg across the Atlantic.
Earthrace skipper Pete Bethune said the big seas had made the Atlantic trip rougher than he had hoped.
'Big waves come racing in and crash-tackle us,' he said. 'Earthrace shudders and rocks as the … cabin goes dark as we submarine through each wave, then lights up as we emerge out the other side.'
It was an eventful crossing. Six metre waves pounded the boat for a tough eight hours before the trade winds kicked in giving the spaceship on the water a fast run into the Caribbean.
But it was not all sweetness…the boat's head had blocked and the crew's sleeping quarters have been flooded with 50 litres of bio diesel, which leaked from an inspection hatch on the main fuel tank.
The carbon fibre hatch lid was temporarily repaired with a hydraulic jack braced against a bunk to hold it closed.
Now that it has stopped in Puerto Rico, the troubles aren't necessarily over for the Earthrace. It's Spanish biodiesel was not dockside as expected and delayed for 24 hours the next leg by 24 hours. The good news is: it's given the crew some time to make some much-needed repairs.
You can follow the Earthrace's progress at www.earthrace.net.