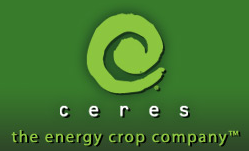 As technology unleashes more and more energy possibilities from more and more crops, it can get a little confusing as to which plants can do what. Ceres, Inc. plans to clarify bio-friendly seeds with its new bioenergy seed brand.
Energy crop company Ceres, Inc. plans to market its agricultural seeds and traits under the trade name Blade Energy Crops in the United States. Company president and CEO Richard Hamilton unveiled the new brand at the BIO World Congress on Industrial Biotechnology in Chicago earlier today.
"Blade will be the first multi-crop seed brand supplying the new market for non-food, low-carbon biofuel feedstocks," Hamilton said. These biomass-dense crops will be grown as raw materials for next-generation biofuels and biopower. One of the great appeals of energy crops is that they can thrive on agricultural lands that are ill-suited to food production.
"Supported by the latest technology in genomics-based breeding, trait development and compositional analysis, we are positioning Blade as a premium seed brand for biofuel and biopower feedstocks. For growers, that means high yields and greater yield stability. Downstream, it means easier processing, and ultimately, more energy per ton of biomass," said Hamilton. "From both an economic and environmental perspective, if we are going to turn plant matter into fuel, we should use feedstocks that give us the maximum fuel yield per acre."
The company says the Blade name was inspired by its first crops, switchgrass, sorghum and canes, which are from a category of closely related grass species, known as C4 grasses. C4 grasses are the natural world's most efficient engines of photosynthesis, the process by which plants store solar energy in the form of carbohydrates. New technologies have made it possible to convert the most abundant form of these energy-rich molecules, called cellulose, into renewable fuels.