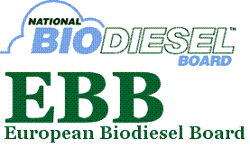 Members of the European Biodiesel Board have asked the European Union to impose punitive tariffs on American biodiesel over complaints that U.S. subsidies on the green fuel are unfair. But their American counterparts at the National Biodiesel Board aren't taking the threats lightly as they promise to hit back on what the NBB says are unfair trade barriers by the Europeans.
This Reuters story says at the heart of the dispute are the U.S. subsidies for "B99" biodiesel. It's blended with a small amount of mineral diesel, and the Europeans say that breaks World Trade Organization rules. In addition, U.S. exports qualify for EU subsidies as well:
The head of a U.S. biodiesel group accused the EU sector of trying to use litigation for protectionist ends and said his group would "aggressively challenge" EU trade obstacles.
"It is hypocritical for the European Biodiesel Board to cry foul while they benefit from a blatant trade barrier," said Manning Feraci, vice president of federal affairs at the National Biodiesel Board.
He called EU biodiesel fuel specifications discriminatory.
"Our industry will aggressively challenge existing EU trade barriers — such as the EU's discriminatory biodiesel fuel specification — and other EU biofuel policies that are inconsistent with WTO rules and provide preferential treatment to European fuel producers," Feraci said in a statement.
U.S. trade representatives remind the Europeans that everyone benefits from a dynamic biofuel industry, worldwide.
EU officials now have 45 days to decide to start an investigation into the complaint, and then they would have nine months to impose tariffs.