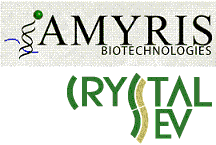 With the Brazilian massive sugar cane crops being turned into ethanol and Americans leading the way in biodiesel production, it was just a matter of time before these two biofuels giants put their heads together to combine the best of both worlds.
This Reuters story says U.S. company Amyris Biotechnologies and Brazil's Crystalsev, a sugar and (naturally) ethanol producer to make and sell the world's first commercially-available biodiesel made from sugar cane instead of oilseeds:
Amyris developed the so-called second-generation biofuels technology, using microorganisms to take juice extracted from crushing sugar cane and transform it into a biodiesel closely resembling the fossil fuel.
Brazil has been the world's largest producer of ethanol from sugar cane for nearly three decades and the country has more than 30,000 filling stations that market the biofuel.
"We are making the first diesel from sugar cane in the world," Amyris President John Melo told Reuters on the sidelines of a news conference in Sao Paulo.
In sugar cane, Melo said, "Brazil has the most sustainable and economic raw material," adding the new diesel will be competitive as long as crude oil remains above $60 a barrel.
The companies did not specify the investment at the initial plant but said costs to build a diesel plant next to a regular sugar and ethanol mill would be of around $20-$30 million.
The article goes on to say that the first sugar cane biodiesel plant is expected to be on line by 2010, cranking out 10 million gallons a year in its first year. In five years with the addition of more plants, the companies hope to be cranking out a combined total of one billion gallons of the green fuel.