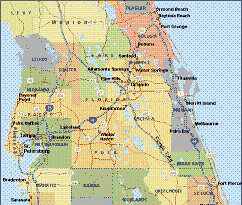 A pipeline that has carried gasoline the 104 miles from the Port of Tampa to the Orlando since the mid-1960s could soon be carrying ethanol across the Sunshine State.
This story posted on the St. Petersburg (FL) Times web site says the 16-inch pipeline owned by Kinder Morgan is going through some upgrades in preparation of becoming the nation's first ethanol pipeline by the third quarter of this year:
The booming U.S. ethanol industry is watching the project closely. If successful, it could lead to a boom in ethanol pipeline projects nationwide, since shipping by pipeline is significantly cheaper than shipping by train, barge or truck.
"It's a test for us, and everybody else, to see if we can make it work," said Joe Hollier, spokesman for Kinder Morgan. "It will be a big advantage if we are able to move ethanol by pipeline, obviously."
As you might remember from my February 20th, 2008 post, there's also another ethanol pipeline in the works… a 1,700-mile venture from the Midwest to the East Coast. That project is still under study with the feasibility of such a pipeline to be determined, hopefully, by the middle of this year.