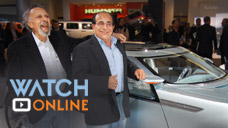 I don't recommend a lot of TV shows on this blog (you're too busy reading Domestic Fuel, right?), but I did catch an episode of Nova on PBS tonight that I thought would be of interest here. In honor of Earth Day today, the show, "Car of the Future," looked at the various alternative energy vehicles out there.
Leading the search for the ideal hybrid were the irrepressible Click and Clack, the Tappet Brothers of National Public Radio's famed Car Talk. While Tom and Ray Magliozzi (their real names) went from an overpowered rollerskate of a car that ran on gasoline (which they asked if the alternative was safety) to a high-powered sports car called the Tesla which drives like a REAL sports car… only on electricity.
Tom and Ray were their crazy, funny selves as they looked at ethanol, biodiesel, hydrogen power and electric-powered cars and how those technologies are used. Funny… and informative.
If you missed the episode, you can catch it online by clicking here. There's also lots of information to read at PBS.org. Check it out! I think it is worth a look.