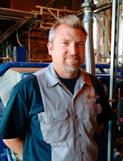 The food vs. fuel debate is still going strong with the chief executive officer of a major biofuel producer telling a technology summit not to blame his industry for the rise in food prices.
This story in the Seattle Post-Intelligencer says that at the Technology Summit in Bellevue, WA today, Imperium Renewables Chief Executive John Plaza told attendees that there's a mood right now "that the world is falling apart" and that biofuels are responsible:
Plaza, whose company operates one of the largest biofuel refineries in the country in Grays Harbor County, thinks it is unfair to blame rising commodity prices on increased biofuel production.
And he said that people should not generalize when it comes to biofuels, noting there are differences between various feed stocks.
Algae is the one that most excites Plaza, saying it is "where the industry needs to go." He sees a way for the country to reach energy independence utilizing algae as a biofuel source, doing so for less than $4 per gallon and by converting just 2.5 percent of the land mass in the country. (Much of it on land not needed for traditional crops.)
One of the audience members did ask Plaza that if he thought algae was such a good idea, why didn't his company invest in algae-biodiesel operations. Plaza said the markets for large-scale biodiesel projects are dead… at least for the time being. His own company has had its share of problems as rising feedstock prices forced Imperium to cancel an initial public offering earlier this year.