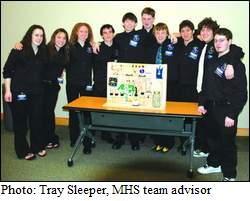 A team of high school students is one of the top finishers in a college-level energy competition for its biodiesel project.
Merrimack New Hampshire High School's Biodiesel Crew took second place in the prestigious Global Venture Challenge at the Oak Ridge National Laboratory in Knoxville, Tennessee. This story in the Merrimack Journal says the students were the only high schoolers in the event and beat out more than a dozen top-level colleges and universities to take the $7,500 prize:
"It was amazing," said Andrew Paiz, 17, an MHS junior. "It was a great opportunity for all of us to present the prototype that we made for biodiesel, and we learned a lot."
Junior Randy Perrine, 17, said the crew got a bit of an unexpected surprise as soon as the team arrived at the challenge.
"The first day of the competition we went there and we didn't know this, but we were supposed to do a practice -presentation for just business owners in the area, so they could critique us," said Perrine. "But we got it done and they gave us some really good advice."
The group came prepared with its functional mini processor, which makes anywhere from 250 milliliters to four liters of biodiesel, according to Sean Muller, a chemistry teacher who works with the team.
The mini processor, called the "BioBuddie 2000," was marketed by the team as an "educational product," said Perrine, and the judges were impressed with the concept.
"Right now there are no education products available for biodiesel, so that was one of the things that made it unique," said Perrine.
The next step for the students, they say, is to patent their invention and find a way so everyone can have a BioBuddie in their garage.