Shipping giant UPS, affectionately known as Brown, is doing its best to be known for its GREEN practices.
The company has announced it is adding 167 compressed natural gas (CNG) powered delivery trucks to the roads in Texas, Georgia and California as part of its global alternative fuel fleet, designed to cut down on the company's carbon footprint and its reliance on dependence on fossil fuels: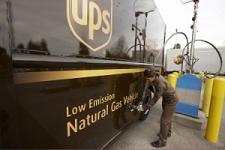 Of the 167 new CNG trucks, 25 have been deployed in Dallas; 42 in Atlanta, and the remaining 100 in five California cities: 30 to Sacramento, 14 to Los Angeles, five to Ontario, 10 to San Ramon and 41 to Fresno. They join more than 800 CNG vehicles already in use by UPS in the United States. Previous CNG vehicles in UPS's fleet were converted from gasoline and diesel vehicles in the 1980s to run on alternative fuels. The new vehicles are originally manufactured for alternative fuel use.
"UPS has deployed alternative fuel vehicles for more than 70 years and this CNG deployment is one more step towards the 'greening' of the UPS fleet," said Robert Hall, UPS's director of vehicle engineering. "Continuing to add CNG delivery trucks to our fleet is a sustainable choice because natural gas is a cost effective, clean-burning and readily available fuel."
The CNG truck bodies are identical externally to the signature-brown trucks that now comprise the UPS fleet although they will be marked as CNG vehicles. The trucks are expected to reduce emissions by 20 percent and improve fuel economy by 10 percent compared to the cleanest diesel engines available today.
The press release goes on to say that this brings the UPS "green fleet" up to 1,629 trucks, using CNG, LNG (Liquefied Natural Gas), propane, electric and hybrid electric vehicles worldwide… the largest alternatively-fueled private fleet in the transportation industry.