As the summer rock concert series are about to start across the country, Billboard Magazine is releasing its top 10 list of the greenest artists.
Some of the more notables include major acts, such as Jack Johnson, Willie Nelson, the Dave Matthews Band, and Pearl Jam.
According to Billboard's article (advance copy posted on the Seattle Post-Intelligencer's blog), at the top of the list is Johnson who has a solar-powered recording studio:
In addition, the tour's trucks and coaches will run on biodiesel, while catering will emphasize locally grown and organic foods.
2. Willie Nelson: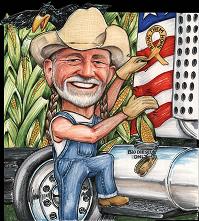 Willie Nelson's BioWillie biodiesel fuel, which is already sold in Texas, Oklahoma, Mississippi, Louisiana, California and Tennessee, will add a key location when Willie's Place at Carl's Corner, Texas, opens this summer. The truck stop, built on the site of the first outlet to carry BioWillie, is located just off busy truck route I-35, which runs from the Mexican to the Canadian border. Billed as the biggest green truck stop in the United States, the facility will include 13 islands and 26 pumps, and all fuel sold there will have some percentage of biofuel, ranging from 5% to 85%.
Other bands are using biodiesel-powered buses and generators, as well as trying to make their shows as ecologically-friendly as possible.
So if you're wondering who to go see on tour this year, keep the green artists in mind.