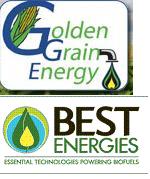 Ethanol producer Golden Grain Energy of Mason City, Iowa is looking at getting into the biodiesel business by the end of the year.
This story in the Mason City Globe Gazette says company president Walt Wendland announced his company, which has been producing ethanol in the northern Iowa community since December of 2004, will work with BEST BioDiesel Inc. of Madison, Wisconsin to put together a "first-of-its kind" partnership using BEST's technology to take the corn oil from Golden Grain's ethanol process and make it into biodiesel:
The partnership, called Corn Oil Bio-Solutions LLC, would employ 11 people in Mason City at an average pay of about $18 an hour.
Tony Janowiec, vice president of BEST BioDiesel, described the arrangement to Golden Grain employees in a recent company newsletter.
He said, "BEST's vision is to integrate technologies within existing ethanol plants to create a real competitive advantage for our ethanol partners.
"Our proprietary ethanol-integrated biodiesel process is the first of many technologies that we plan to bring to our partnership with Golden Grain.
"It's maximizing existing resources and getting more value out of the same acre of land and same kernel of corn."
Last week, the Mason City Council gave the plant a $125,000 tax abatement for 10 years. In addition, Corn Oil Bi-Solutions is trying to get some additional financial help from the Iowa Department of Economic Development.