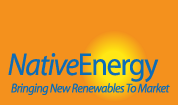 NativeEnergy, a company that sells carbon offsets and renewable energy credits (RECs), has teamed up with renewable energy project builder, VINCO Inc., to get into the wind power business.
This press release says the venture will focus on small-scale renewable energy projects, such as family wind farms:
"Farmers understand they need to invest something in order to harvest something," says Jim Pederson, Business Development Manager of VINCO. "They need equipment to harvest a crop, and in this case — with climate change and the rising cost of electricity — the crop is the wind."
Addressing the substantial up-front costs that often deter farmers and other project developers from investing in renewable energy is at the heart of the VINCO and NativeEnergy agreement. VINCO will identify and connect to NativeEnergy those farms that need additional up-front financing from the RECs sales in order to get their new wind turbines built. NativeEnergy will assess each project's need for funds. If REC sales are needed, the company will then purchase the projects' total expected lifetime RECs output, providing the necessary support, enabling farms to harness clean energy in a more self-sustaining, independent way.
"Adopting high standards of project-specific additionality, NativeEnergy enables its clients to help directly finance the construction of new wind projects that would not happen without additional revenues for their RECs," says Tom Boucher, President and CEO of Native Energy.
In addition, the partnership will allow both companies to pursue common goals: to help others achieve energy independence and lower emissions to address climate change.