After announcing the formation of its Sustainability Task Force at the National Biodiesel Conference & Expo in Orlando, Florida last month, the group has filled out the nine-member panel.
According to this NBB press release, the group, led by Emily Bockian Landsburg of Philadelphia Fry-O-Diesel, will work to ensure the biodiesel industry will continue to protect the environment, while producing jobs and reducing dependence on foreign oil: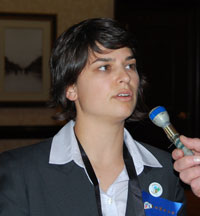 "In order to develop best practices that will be adopted throughout our industry, we selected a task force that represents the various segments of the industry and regions of the country," said Landsburg. "Recognizing the need for input from critical stakeholders who are not members of the NBB, such as environmental organizations, government entities, and sustainability advocates, we are forming an Advisory Committee that will be heavily involved in this process."
The members of the task force are Kumar Plocher, Yokayo Biofuels, Ukiah, Calif., a small producer making and distributing biodiesel from waste kitchen greases the company collects; Victoria Carver, Iowa Soybean Association, Urbandale, Iowa – ISA has developed environmental management practices that address soil and energy conservation, run-off and pest and nutrient management; Rachel Burton, Piedmont Biofuels, Pittsboro, N.C., a small producer that grew out of a grassroots cooperative; Dennis Fisher, ADM, Decatur, Ill., Director of the Office of Compliance and Ethics and member of ADM's Sustainability Steering Committee; Doug Hanson, South Dakota Soybean Research & Promotion Council, Elk Point, S.D., a grain and livestock farmer; Tim Maneely, U.S. Biodiesel Group, St. Paul, Minn., a production plant engineering and design expert with experience in soy, palm, and coconut oil supply chains, representing a large producer; Doug Smith, Baker Commodities, Minneapolis – has over 20 years in the rendering and oleochemicals industry, specializing in quality control and safety management; Jeff Trucksess, Green Earth Fuels, Houston, Texas, a regulatory and legislative expert with a background in international development; and Landsburg, Philadelphia Fry-O-Diesel, Philadelphia, an organizer of the Sustainable Biodiesel Summit from a company that developed technology to convert the waste material of sewer trap grease into biodiesel.
You can also hear some of Landsburg's comments on this post from the NBB Conference blog.