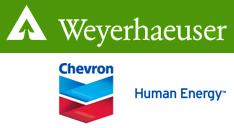 Oil giant Chevron and timber giant Weyerhaeuser are teaming up to make biofuels.
This story in the Seattle Times says the new company formed from the partnership, Catchlight Energy, will be looking to get the green fuel from cellulose and lignin:
Catchlight will initially have offices at Weyerhaeuser's Federal Way headquarters and at Chevron's San Ramon, Ca. homebase. Chevron executive Michael Burnside will be the new venture's chief executive, and W. Densmore Hunter of Weyerhaeuser is chief technology officer.
Both firms will contribute technology and personnel. Catchlight may employ 30 to 40 people over time in its research and development effort, said Weyerhaeuser president Dan Fulton.
The venture will study "not only the technology, but also the commercial implications of creating a viable business there," Fulton said.
The creation of Catchlight formalizes a partnership Chevron and Weyerhaeuser entered in April 2007. At the time, many energy and agricultural companies began seeking to leverage their expertise into the fast-growing biofuel business.
This is not the first time unlikely partners have teamed up to make biofuels. You might remember that "Big Oil" and "Big Chicken" (ConocoPhilips and Tyson, respectively) teamed up last year to turn chicken fat into biodiesel.