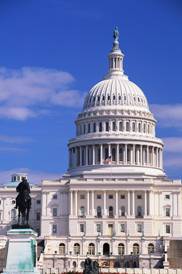 The U.S House today approved $18 billion in new taxes on the oil companies that will fund incentives for renewable energy.
Bloomberg.com reports that the vote comes as crude oil prices topped $100 a barrel and will send the bill to the Senate, where similar measures have faced stiff opposition in the past:
The $18.1 billion measure, versions of which have been rejected twice by the Senate, would remove a $13.6 billion tax credit from the world's five biggest public oil companies, and impose a $4.5 billion tax on oil and gas companies operating abroad. Money from the policy changes would promote wind and solar power and offer incentives for energy savings technology.
The 236-182 vote comes a day after the price of oil closed at a record $100.88 and during a week when the Energy Department reported that the price of average retail regular unleaded gasoline climbed almost 9 cents to $3.13 a gallon. The White House again threatened to veto the measure yesterday.
"We have seen no indication that Republican opposition to the oil and natural gas tax hikes have abated, making the offsets the Democrats seek for the renewable programs the albatross on the bill," said Christine Tezak, an analyst for Stanford Group Co. in a Feb. 22 report.
Last December, a $13 billion energy tax measure fell just one vote short of the 60 needed in the Senate to invoke cloture and allow the bill come to a binding vote. The failure came after President George W. Bush threatened to veto an energy bill with the taxes. Backers hope the higher oil prices will help the measure survive better this time.